2004 An Inspiration Becomes a Reality
Cross Timbers Cowboy Church
Sometime in 2004, Glenden Sanders went with a group from Lufkin 1st Baptist Church out of state to help build a cowboy church. Glenden was inspired by what he saw there.
He and then pastor of Lufkin 1st Baptist, Nolan Duck got a demographic study done. They found that there were 12,000 unchurched people of the western culture in Angelina County.
They put on an event at the Lufkin Expo Center with "Wild Horse Ministries". Sami & RenaKay Coats who are currently active members of Cross Timbers Cowboy Church donated their horse for the program.
During the program, it was announced that if anyone was interested in starting a cowboy church a meeting would be held in the SkyBox in a few days. There were 8 people at the meeting. Those at the meeting who still attend are "Buddie" & Marie Kimball, Jenny Ross, and Robert & Pam Denum. Delbert & Dorothy Compte are now serving as Traveling Ministers for the Texas Fellowship of Cowboy Churches.
Ron Nolan, who was with the BGCT church planting, chaired the meeting. At that time there were 27 cowboy churches in Texas. (Now there are over 150) Delbert offered his bunkhouse and our first meeting there was September 16, 2004. We met at the bunkhouse on Thursday evenings for the rest of the year.
In December 2004 our little group called Ford Adkins to be our pastor and arranged to start meeting on Sundays at the Lufkin Expo in the SkyBox. Our first meeting in the SkyBox was on January 6, 2005. We met Sundays there until Easter Sunday 2008 when we moved into our own place of worship a few miles up the road on Highway 69 North.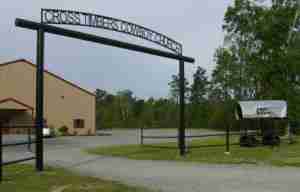 Christian Organizations We Are Associated With